Years ago, while kayaking in Costa Rica, I discovered a great dish! It's called Gallo Pinto (it means speckled rooster; because that's what it looks like.)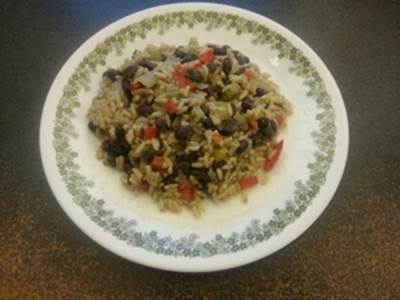 It is a staple of Costa Rica that people eat every day. It is a great side dish that goes with eggs, meat, chicken, or fish, or is good all by itself. I make it all the time, freeze some, and also dehydrate some for camping. It rehydrates well. Just add boiling water and wait 5-10 minutes.
Many of you have asked for the recipe, so here it is – all proportions are "to taste".
GALLO PINTO
Cook 1 cup of rice (yield = 2 cups of cooked rice)
In a large pot, melt some (2 tablespoons) of butter (or margarine)
Sauté 1 medium to large, chopped onion – Chop it big or small to preference. cook for 2 minutes or so
Add some garlic powder or fresh minced garlic
Add two 15 oz (or one 32oz) cans of black beans (rinsed) – cook for 2 minutes or so
Add some (1 cup) diced celery – cook for 2 minutes or so
*Add in some Salsa Lizano (you can order it online (Amazon) - or add a little bit of cumin to taste) (or try HP Sauce)
In Phoenix, Salsa Lizano is available at
Mi Tienda Latina
1811 N 24th St (above McDowell)
Add some (2-3 tablespoons) medium to finely chopped cilantro – cook for 2 minutes or so
Add one half to one medium to large diced red bell pepper – cook for 1 minute or so
Add the rice to the mixture – stir up – cook for one more minute or so
Yield – 6-7 cups
Add a bit more Salsa Lizano to the serving (to taste)
(Serve with some sour cream on the side.)